It's that time of year again when Petswelcome presents its annual Holiday Gifts for Dog Lovers. In 2019 we've decided to break the gifts out by category. All dog lovers have different needs, wants and, of course, dogs. By dividing the gifts into different groupings we hope it will make it easier for you to make a better decision.
The 6 categories we created for Holiday Gifts for Dog Lovers are: Travel, Fun, Safety and Security, Health, Food and Treats, Pet and Human Accessories. Some items in one group might crossover into another group but we've tried to divide them into the category that best defines each product. The Hyper Pet K9 Kannon K2 Dog Ball Launcher will keep a dog healthy and in good shape by giving it plenty of exercise but we put it in the Fun category, well, because you get to shoot a cannon.
What to Think About When Buying  Holiday Gifts for Dog Lovers
Lifestyle
Everyone wants their present to be the perfect gift.  And the best way to make sure that happens is to take into consideration a number of different factors such as your dog lover's lifestyle. Are they outdoorsy or more of a couch potato? Do they have favorite hobbies or activities? If your dog lover enjoys hitting the road with her best friend, then a helpful pet travel gift might be just the ticket. If he's reader, then a book of dog stories or poetry will be greatly appreciated.
Type of Dog
A great gift for a true dog lover is a great gift for the dog and will be much appreciated. If you're thinking of a holiday gift for dog lovers that involves not only your dog lover but his dog, too, it's important to make sure the gift works for both of them. If the dog lover has a young pup, you might want to buy a gift that allows her to play with her dog more so that it gets plenty of exercise. On the other hand, if the dog is older, maybe a dog ramp or a heated dog bed is the perfect present. Or if he has a purebred, then a set of glasses with his favorite Golden Retriever on it could go a long way in making it his favorite present.
Budget
We all know that giving gifts is about thinking of others and not yourself. But you obviously need to take your own budget into consideration. The good news is that we've included many different price ranges so that you can find the gift that matches your pocketbook. A Dog DNA Test is certainly a great present. But I know some dog lovers who would get a bigger kick out finding an Orbee-Tuff Lump of Coal in their stocking so they could play fetch with their favorite animal all Christmas morning.
Remember, it's the thought that counts. So give it some as you read Petswelcome's Holiday Gifts for Dog Lovers.
1.Travel Gifts
Dog food container, water and food bowls plus a nylon canvas travel bag that will allow you and your pet to cover to hit the road prepared and in style.
There's always the temptation drive your car without securing your dog. Don't do it. With this harness you can feel confident that your dog will be safe upon arrival and be ready to take on all the exciting adventures that await you at your new destination.
Have an older dog that needs help getting in and out of the car? This ramp is perfect because it weighs only 7 lbs. and supports up to 200 lbs. It has a non-slip walking surface for stability.
This bed comes in a small stuff sack for easy carrying, making it a the perfect travel accessory for camping, cars, and hotel stays.
2. Fun Gifts
Hyper Pet K9 Kannon K2 Dog Ball Launcher
Want to make someone and his dog very happy? Get them this ball launcher and watch the tennis balls fly.
Planet Dog Lump of Coal Dog Toy
A simple, inexpensive but fun stocking stuffer that will give dogs and their owners hours of enjoyment indulging in that great American pastime: Playing fetch.
Trixie Mad Dog Scientist for Dogs
Besides having a great name, this interactive dog turn-around game will keep dogs engaged by mentally challenging them to get their treats.
Throw the Damn Ball: Classic Poetry by Dogs
Yup. Poetry by dogs. We think you'll like it.
Some people like angels on their tree. Some people stars. We say a Black Lab tops them all.
3. Dog Safety and Security Gifts
Furbo Dog Camera and Treat Tosser
This camera is an all-round security device that has 1080p Full HD Camera & Night Vision and livestream video to monitor pets on mobile phones. It also has a 2-way audio barking alert. On top of that, it can toss dog treats at your command using the Furbo iOS/Android app. Wow.
Tractive GPS Dog Tracker
Whether he wanders from your yard or you're far away from home traveling with your dog, this collar will give your dog lover peace of mind, knowing that, if by chance, he gets away, he will be found.
The Tile Pro is a powerful bluetooth tracker that can help you find many things from your phone to your keys. It can also help you find your dog. A more economic option, a Tile Pro Tracker 2 Pack can be purchased for less than the price of most GPS dog collars.
4. Health Related Gifts for Dogs
EmbarkDog DNA Test: Breed & Ancestry Identification, Trait & Health Detection
All dog owners want to find out more about their dog. This DNA test kit will do the job. And the good news is that, unlike human DNA tests,  there's no surprises like finding out that somebody's father isn't his father which makes for a more restful, pleasant and contented holiday season.
Might not sound like a holiday gift but, hey, it's a treat. And not only that, it is clinically proven to reduce tartar and plaque buildup to help prevent canine dental disease and keep their breath fresh. We guarantee it will produce big (and healthy) smiles this holiday season.
Here's a simple idea. Open a Chewy Pharmacy account for your dog lover. It costs nothing and they can start earning great savings and direct shipping right away on tons of pet meds and health products.
5. Food and Treats
Filled with treats and toys, it's like Santa's sleigh just landed in the living room.
New York City is one of our favorite places and we think dogs would love it, too. So what better way to give them a taste of the Big Apple than with a New York City themed bundle from Barkbox?
6. Pet and Human Accessories
Deluxe Lectro-Soft Outdoor Heated Pet Bed
In most of the country, the holiday season means chilly weather. What better way for a dog to keep warm than with a heated bed?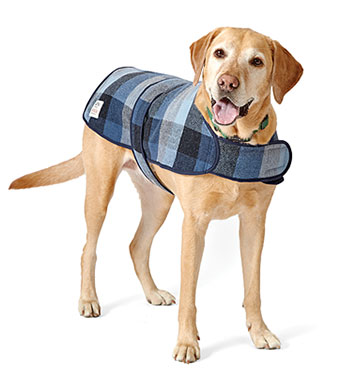 "Fashion fades, only style remains the same," Coco Chanel said. So if your dog is gonna wear a coat, he might as well do it in style. This coat works equally well on Madison Avenue or chasing birds on an open country field.
Siting by the fire. Petting your dog. Sipping on your favorite aperitif. These glasses will help dog lovers enjoy the holidays in a timeless and traditional fashion.
Time to take off that Apple Watch and go analog.  There are a lot of advantages. No beeps, emails or tweets or texts. Just peace and quiet and a happy sense of independence. And, the best thing is, every time you check to see how blissfully long it's been since you've been connected to the web, you'll be reminded of your best buddy. Your dog lover will love it! Sweet!
If your dog lover has an artistic bent, we think this is coolest gift you could give him or her. An old dictionary page with a color print of a dog on it makes for an absolutely beautiful piece of art (and conversation starter). There are tons of prints to choose from at a price that will tempt you to get more than one.
All of us at Petswelcome wish you and your animals peace, happiness and a joyous holiday season.
Facebook Comments