Extended Stay America is a pet-friendly apartment-style extended-stay chain with 650 locations in the U.S. and Canada. Staying at an Extended Stay is similar to renting an apartment, as suites include kitchens fully equipped with a stove, microwave, and refrigerator. They also offer on-site laundry and enhanced cleaning in communal areas. An added benefit of Extended Stay is that the binding contracts associated with renting an apartment are not required, and occupants can check out whenever they desire. Most importantly, pets are welcome at all locations!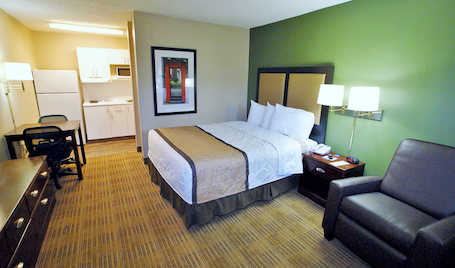 Pet Policy
A maximum of two pets are allowed in each suite. A $25 (+ tax) per pet per night fee for the first 6 nights. And $10 (+tax) per per per night after that. The first seven (7) nights are payable the first night of your stay and is charged at check-in. Height and length restrictions apply: pets can be no longer than 36 inches and no taller than 36 inches.
About Extended Stay America
Extended Stay America knows how important your pooch is to you; that's why they welcome pets at all 600+ locations. If you choose to bring a pet, there are a few restrictions and fees involved. But don't worry! Petswelcome.com has all the information you need to make sure you and your pup will be accommodated.
"Extended Stay America knows how important your pooch is to you; that's why they welcome pets at all 600+ locations."
Our reviewers at Petswelcome.com have mixed feelings about Extended Stay America. Some have had problems with locations not honoring their reservations, and others have remarked about dirty rooms. Although some have had negative experiences, there have been a host of positive comments as well. Reviewers love how accommodating employees are when it comes to pets, and they also make a point to mention the comfortable rooms and modern amenities.
Extended Stay America opened its first two locations in August of 1995. It changed hands a few times, and as the years passed, it grew, acquiring a similar extended stay lodging in 1997 until it eventually fell on hard times. During the Great Recession of 2008, Extended Stay filed for bankruptcy, but due to corporate financial law, it was able to keep operating without being liquidated. In 2010, the chain emerged from the ashes of its undoing and has been developing new locations ever since. When you choose Extended Stay America, you're also helping make the world a better place. That's because Extended Stay has a history of making charitable donations to those who need it most. For instance, in 2013, the chain donated a wapping 40,000 hotel rooms to the American Cancer Society. This donation is part of Extended Stay's most prominent charitable initiative, called Hotel Keys of Hope. The charity provides free and discounted rooms to cancer patients and their caregivers and even helps patients access medical treatment. All that goodwill makes choosing Extended Stay America an easy decision.