Holiday Inn Express is an upper-midscale hotel chain with over 2,826 locations worldwide, and 469 pet-friendly locations in the United States. This chain offers limited services at a low price, making it popular with people looking for short-term lodging. Most locations have a business center fully equipped with computers, printers, and fax machines. Whether it be for business or pleasure, Holiday Inn Express is a practical place for you and your pet to recharge for a few days.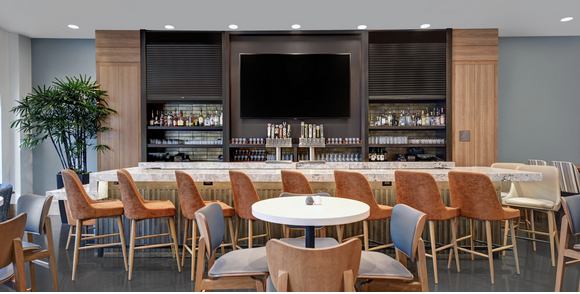 Pet Policy
Depending on the hotel, Holiday Inn Express will usually charge a non-refundable pet deposit or a nightly fee ranging from $15 to $35. Most hotels allow 2 pets per room, and a handful only allow pets in designated pet-friendly rooms which makes booking ahead of time essential. Some hotels allow dogs up to 50 lbs, while others max out at 80 lbs, so remember to check the pet policy of your desired location before booking. If you want to bring your feline friend along it's important to check if the hotel welcomes cats, as some only allow man's best friend.
About Holiday Inn Express
Holiday Inn Express welcomes humans and pets alike, and with so many low-cost locations you're bound to find a nearby room for you and your pet! While Express' pet policies are fairly consistent across the board, there can be differences between individual hotels. This would be a major inconvenience if it wasn't for Petswelcome.com, where with just a few clicks you can easily access the pet policies of every pet-friendly location in the nation!
Holiday Inn Express welcomes humans and pets alike, and with so many low-cost locations you're bound to find a nearby room for you and your pet!
Holiday Inn Express has received high marks from Petswelcome's visitors. On average, reviewers have given the chain 5 stars for human friendliness, 4 for pet friendliness, and 4 for overall value. They make a point to praise the welcoming staff and the delicious Smart Roast coffee, which may come in handy if you have an energetic pup to keep up with. Trying to reduce your carbon footprint? InterContinental Hotels Group has made it a little easier to do so. Their patented IHG Green Engage system allows all of their chains, including Holiday Inn Express, to monitor and mitigate their impact on the environment. That means when you stay at Express you're helping to ensure that your children's children, and your pet's children, will be able to enjoy the earth for years to come.
Holiday Inn Express is part of the InterContinental Hotels Group brand. InterContinental is a British hospitality company with roots tracing back to 1777. It was way back then when William Bass, renowned brewer and founder of Bass Brewery, began his initial venture into the lodging business. In 1990, nearly 200 years after Bass' first foray, Holiday Inn Express was founded, and is now one of the world's fastest growing hotel chains.